Jewelry Making Classes

Join a jewelry-making class at Ka-Gina Beads, Etc. to learn new techniques in creating beaded jewelry and to make fun projects!
We offer several bead classes by appointment with one of our instructors. This makes the class available to you at a convenient date and time!
To review these class offerings, please click on "calendar" on the top navigation bar.  You'll get a calendar showing class dates and time and the cost to register.
Paid registration is required to secure your spot in the class.
Beads and materials for each class are not included in the instruction fee unless otherwise stated.
Please call 303-423-1720 or e-mail us ka_gina.beads@yahoo.com to register for the class you are interested in taking. Please arrive 20-30 minutes before your class start time in order to purchase materials for the class.
If you would like to take a class but at a different time and date than scheduled..please ask for other availability. My goal is to accommodate you on the date and times. Also, if you would like to take a bead class that is not scheduled for that month….ask and I am sure we can try to work it in to fit your schedule.
We look forward to having you attend our classes!
Children's Party Packages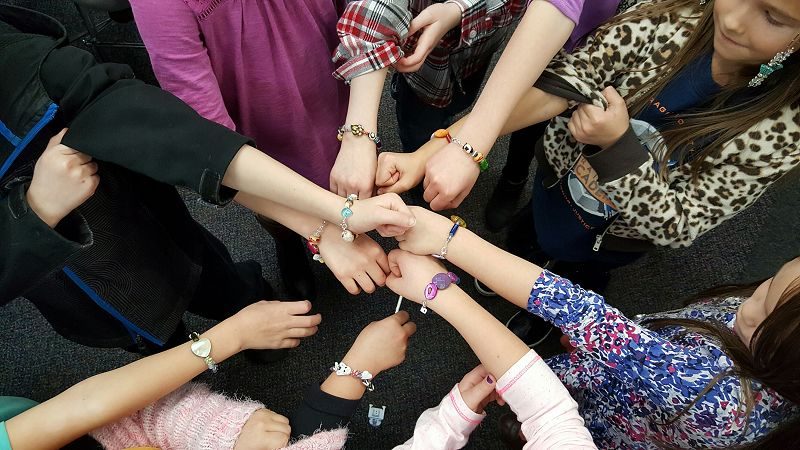 We Offer a perfect activity for birthdays, scouts, church groups, etc.
Our room seats 12 – 15 participants. And each package includes a snack bowl & balloon.
To make a reservation, please contact the store. Phone: 303-423-1720 or Email ka_gina.beads@yahoo.com
By picking out one of the packages below, the party participants won't have to spend time deciding which "Project" to create! The participants can only pick their beads fro the package you choose. Also, if you wish for us to pre-make each package individually, we are more than happy to do this for you.
If you wish to have the party at your home, pre-made packages are a plus.
Cake and Ice Cream welcome! Please inquire about clean-up fee.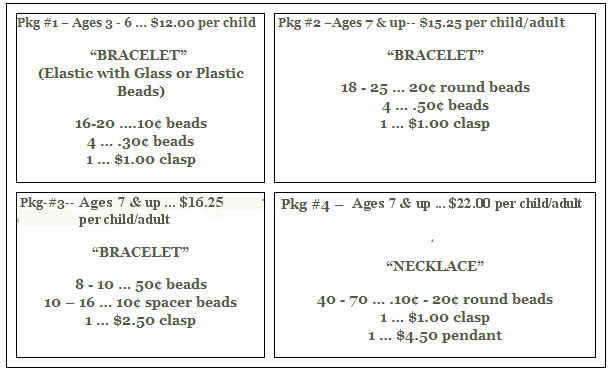 Stringing material, clasps, and labor included in price
(Charms or metal findings not included)
Jewelry making classes and new techniques in creating beaded jewelry – located in Arvada, Colorado.